"Using new, self-developed technics of playing, he realizes in
his compositions in a virtuoso way the traditional pentatonic
sounds of his homeland's folk music with the guitar ."
(Christoph Herrmann, TIP – Berlin Magazin)

"With pieces from Brazil, Spain, Arabia, and Cuba, played on concert
guitar, Long gave breathtaking drama. With solo guitar Long directed an
ochestral variety of voices, deriving from other melodic and percussion
instruments."
(Olaf Schröder, Märkische Oderzeitung)
"... Der Konzertgitarrist aus Berlin Dang Ngoc Long,
verzauberte durch sein meisterhaftes, virtuoses und
einfühlsames Spiel, das von konzertanten Stücken über
spanische Tänze bis zu vietnamesischer Folklore reichte."...
(Freie Presse - Hohenstein- Ernstthaler)


"The concert guitar-player Dang Ngoc Long remembered in his
own compositions and the adaptations of folk songs for
classical guitar his homeland and brought the visitors to
storms of enthusiasm."
(Christoph Herrmann, Berliner Morgenpost)

"...Mit Stücken aus Brasilien, Spanien, Arabien und Cuba, vorgetragen
auf der Konzertgitarre, bot Long atemraubende Dramatik. Long
inszenierte auf der Solo-Gitarre eine orchestrale Stimmenvielfalt aus
anderen Melodie- und Schlaginstrumenten. ..."
(Olaf Schröder, Märkische Oderzeitung)



"...Mit Hilfe selbstentwickelter, neuartiger Spieltechniken setzt er in
seinen Werken die Klänge der traditionellen, pentatonischen
Volksmusik seiner Heimat virtuos auf der Gitarre um."...
(Christoph Herrmann, TIP- Berlin Magazin)
"The concert guitar-player Dang Ngoc Long, Berlin, enchanted with
his masterly, virtuoso and sensitive performance, reaching from
pieces in concerto form to Spanish dances and Vietnamese folk
music."
(Freie Presse – Hohenstein-Ernstthaler)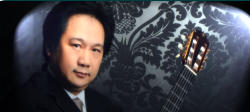 Welcome to the Website of the Composer, Guitarist & Actor Dang Ngoc Long